Power X Crimping Device
This 4th-generation crimping device delivers the same precise crimp as the original but with five times the crimping power in a single crimp so you need to crimp the tube only once, not three times—that's 66% faster. Tool is smaller and more ergonomic for easy handling, and it has an innovative crimping pattern to ensure optimal clamp security. It can be used with either SECUROS brand monofilament nylon or SECUROS Brand OrthoFiber. Please ask for PowerX Crimp Clamps in 40#, 80#, 100# or OrthoFiber to use with the corresponding sutures.
Part Number:
037934
Add to Wish List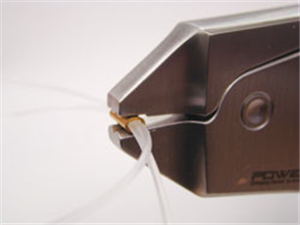 ---
Product Details
Securos Code:

004033

Species:

canine, feline, equine, cattle, sheep, goat, swine

Size:

8.75 inch.
Add to Wish List
---